AKOS Russia PR Report 2020-2021

Lilia Glazova, CEO, PR News,
Chair, AKOS/Сountry Member of ICCO
"Wherever you are, be there totally" - Eckhart Tolle
"In the moment" and "power of the moment"
The past year definitely was a test of resilience for the communications industry and its readiness for change. Whether companies would pass this test or not depended on the knowledge and experience they had accumulated, and PR agencies fared well. Simultaneously, some tectonic changes occurred in the world, including new consumer behavior patterns emerging, and governments and businesses taking some important decisions and actions. With the Covid era serving as a catalyst for change, sweeping digitization and artificial intelligence - the trends that had been gathering momentum in recent years - came to the fore and those who managed to regroup quickly and had sufficient resources were able to jump on that wave.
Strategy, trends and professionalism
At long last we have come to a point where PR is taken seriously as a strategic business function. The challenge society faced companies with, that of being honest and transparent in their communications and cautious and emphatic in their statements, was met only thanks to communicators. For the industry, it is an important change in perception and awareness of communications in general. AKOS had built an ample arsenal of tools and standards that provides helpful guidance when it comes to making hard decisions and continued this work through 2020 and 2021, while closely watching trends, the biggest ones last year being digitization, ethical conduct and effective content. The AKOS Russia PR Report takes a look at the PR and communications industry as a whole and companies in it. Last year it was important to provide agencies with support in matters of distance working and we conducted a separate survey on that subject.
The future of PR
AKOS has weathered the recent turbulent period well, with members showing how important the association's support is to them and others not losing interest in the organization. Despite the pandemic, new members continued to join online, bringing the membership total to 50 agencies. With the achievement of this milestone, we realized it was time to take stock and really start to plan for the future. The PR industry has gone through numerous stages in its evolution and now is the time to join forces and get it across to organizations that PR has strategic value. Spotting trends is necessary but so is setting them. Ethics and sentiment are the pillars which will inform communications in future, attract the attention and win the loyalty of audiences.
PR Trends 2021: The New Normal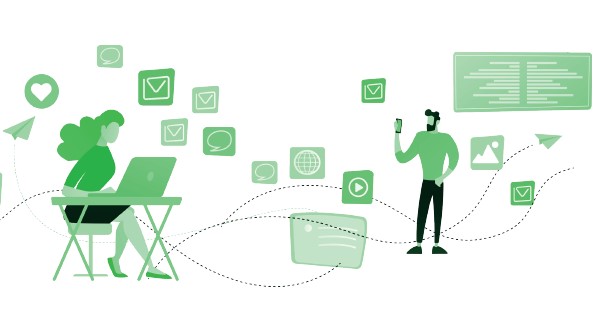 #1 Digitalization
Go online or go dead
ESSENTIAL TO SURVIVAL. It used to be about innovation and new technology and now it is back among the top trends on a more utilitarian level as essential to survival amid the pandemic and in general
AI, VR, AR are the future of the industry but as it turns out not everyone is ready for it
UNIVERSAL SOLDIER. A key issue is what PR practitioners need and what skills they must possess to stay current and meet the needs of the digital age. The PR professional has always been a universal soldier but today they also need to know their technology, including automation, big data analysis, etc.
#2 Effective content
ADVANCES IN ONLINE LEARNING Demand for useful and interesting content formed a long time ago and then coronavirus lockdowns brought it back to the fore, leading to robust advances in e-learning
VIDEO INTERACTION That, in turn, gave further impetus to the development and use of video and visualization technology which some experts believe is a must-have for promotion purposes today. Written content is not interesting anymore, overshadowed by beautiful eye-catching images. Video is also changing. The vertical format is the norm now and no retouching is even better. Live streaming, webinars, interactives are not new, but desirable formats use and doesn't allow tracking mentions
USING CHATBOTS AND ASSISTANTS TO MAINTAIN CONSTANT CONTACT WITH AUDIENCES Not so long ago voice search, voice messages, chatbots and virtual assistants were new tools and now they have become an integral part of maintaining uninterrupted communication with audiences
CLUBHOUSE Speaking about audio, a few words must be said about the phenomenon of Clubhouse from earlier this year. Although a great idea, its timing seems late, seeing that when it launched people had already grown tired of being online and wanted to get out of home and meet in person. The app also presents a fundamental problem for PR professionals since it doesn't record and store the chats for future use and doesn't allow tracking mentions.
#3 Ethics
HUMANE ATTITUDE Being humane becomes crucial to companies and brands when people are stressed (experience fear or uncertainty) or have financial difficulties
HELPING OTHERS Red lines have changed from the environment and fake news to helping one another and supporting those most affected by the pandemic
CARE AND CONCERN People are shaken up and vulnerable which makes care and concern a priority. PR professionals are faced with the challenge of finding the right words and tone, and communicating a position carefully but honestly. Sincerity and compassion is the new black in these sensitive times and one must tread very carefully to avoid mistakes
Survey: pros and cons of remote work in PR
Last year was the first time for many employees to work from home. But which situation offers more benefits and who is best suited to remote work? An AKOS working group on HR in PR conducted a survey to answer these questions.
For every activity, its own place. Tasks requiring collaboration and informal meetings are better done in office. Home is best for working on something alone. And brainstorming and meetings over Zoom are equally convenient and productive when done remotely and in office. Based on that, project teams would do better in office, whereas designers and copywriters, who need a high level of concentration, would do better working remotely.
Distraction is a problem. Only 19% of respondents said they have none of it. These are people who have no children and live with a spouse, relative or other close person. The remaining 81% of the marketing and PR professionals polled said they get distracted by chores, live-in family, pets and pop-up messages and notifications.
Productivity is the same. 55% of employees switched to work from home saw no change in productivity, 22% insist their work has improved and 18% complained it has deteriorated. Most, however, would be open to working from home not more than one or two days a week after the pandemic is over.
Employees are most concerned about at the moment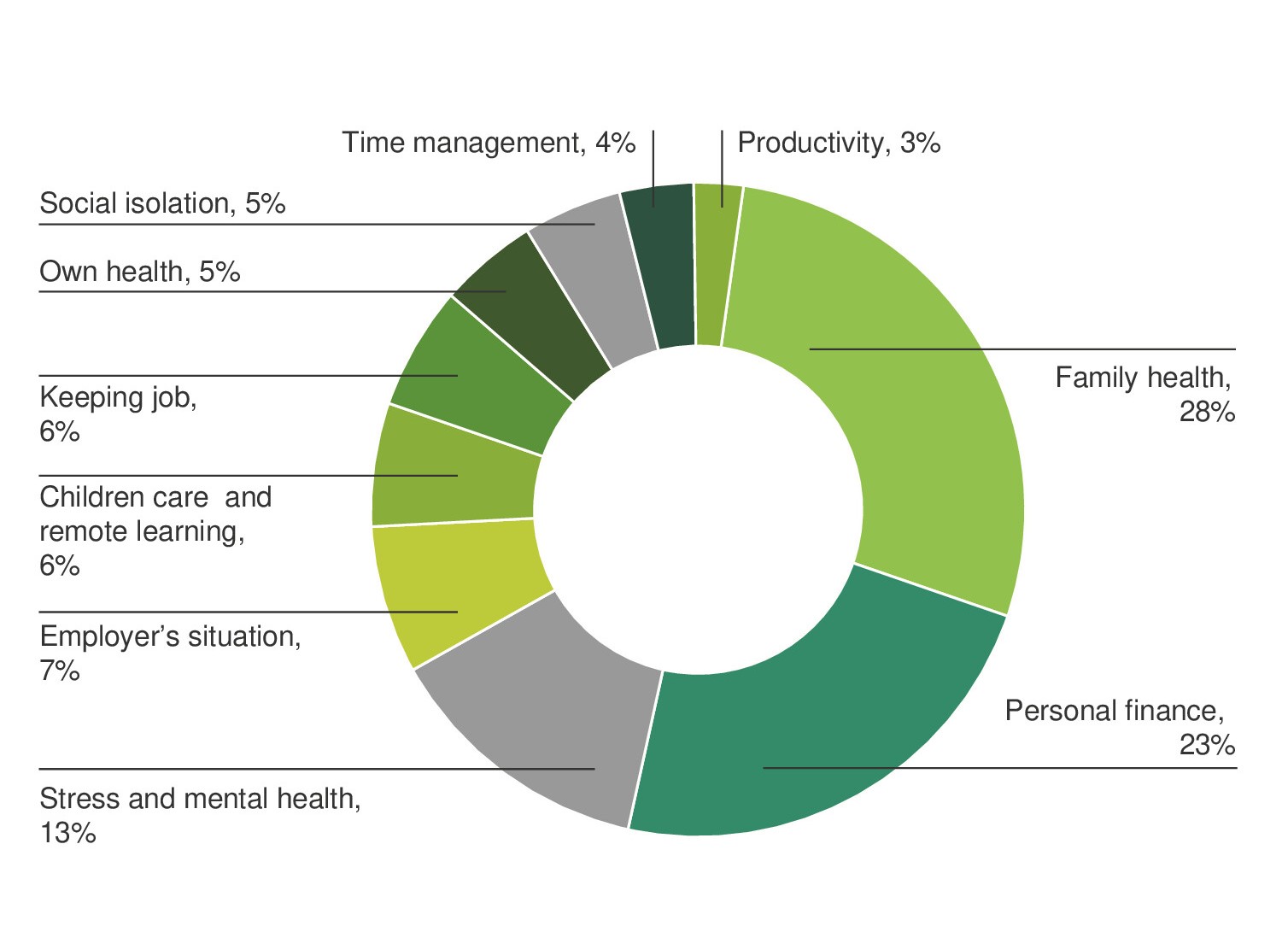 Recommendations for employers
Help employees set up a workstation at home. Find out if they need a table, chairs or any other equipment.
Formulate tasks as clearly as possible and set strict deadlines; suggest planning for the day on a timeline to avoid delays and to keep work separate from personal life.
Make sure members of the team can work together and communicate with one another without problem whenever needed.
Use phone and video links to check up on employees and their progress and discuss ongoing tasks so they don't feel isolated. Afterwards write down a summary of important issues discussed during the chat.
Be flexible on hours worked in office and from home. Most prefer working remotely 1-2 days a week.